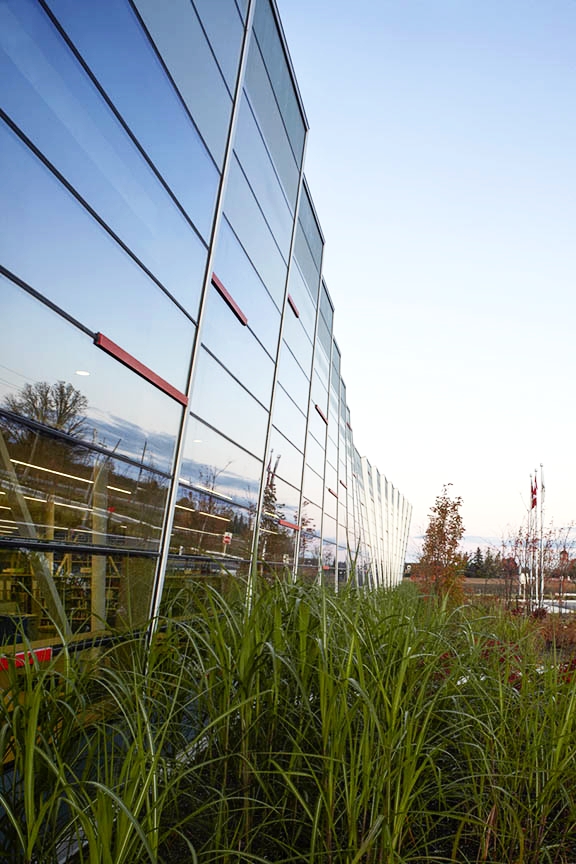 Gore Meadows Community Centre & Library
Brampton, ON, Canada

Located on a 143-acre rural site, the new Gore Meadows Community & Sports Centre is a unique multi-programmed facility containing over 300,000 s.f. for the residents of a rapidly growing multi-cultural district in Brampton.

Inspired by the agricultural and natural landscape, both the site and building design reflects a modern attitude to design, yet is mindful of its past heritage. Reminiscent of the adjacent farmers' fields, the site design is an abstract expression of linearly planted bands of selected vegetation that include perennial flower beds, framed by grids of bushes and treed orchards.

This landscape is also the foreground for the building's main exterior feature, a multi-directional curved glass wall simulating the undulations of windblown-planted harvest fields. In its movement, this glass wall reflects a spectrum of light and images ranging from the distant sky to the immediate landscape that grounds the building.

Conceived of as the new "Centre of the Community", the facility combines sport, fitness, and library services on one site and under one roof. The central organizing element of the building will be timber framed public galleria that stretches along the main façade and links the community centre, aquatics centre and public library.

The facility design also includes a future indoor soccer centre, with a gently arching wood diaphragm structure above the FIFA soccer pitch. Sustainable design strategies and systems have been utilized to ensure the facility will achieve LEED Gold certification.
Client
City of Brampton
Size
300,000 s.f. integrated building
Phase 1: 70,000 s.f.
Phase 2: 230,000 s.f.
Program
Library
Community Centre
Gymnasium
Fitness Facility
Multi-purpose Space
Field House
Aquatics Centre
Sustainable Features
• Use of native/adaptive drought tolerant plantings, high-efficiency irrigation technologies and rainwater harvesting systems to reduce potable water usage
• 40% reduction of potable water usage within the building by use of high-efficiency fixtures, rainwater harvesting systems and greywater systems
• 25% energy cost savings
• Use of local materials that are extracted and manufactured within 800 km of the project site
• Direct sightlines to the outdoors via vision glazing in 90% of all regularly occupied areas
• LEED Gold