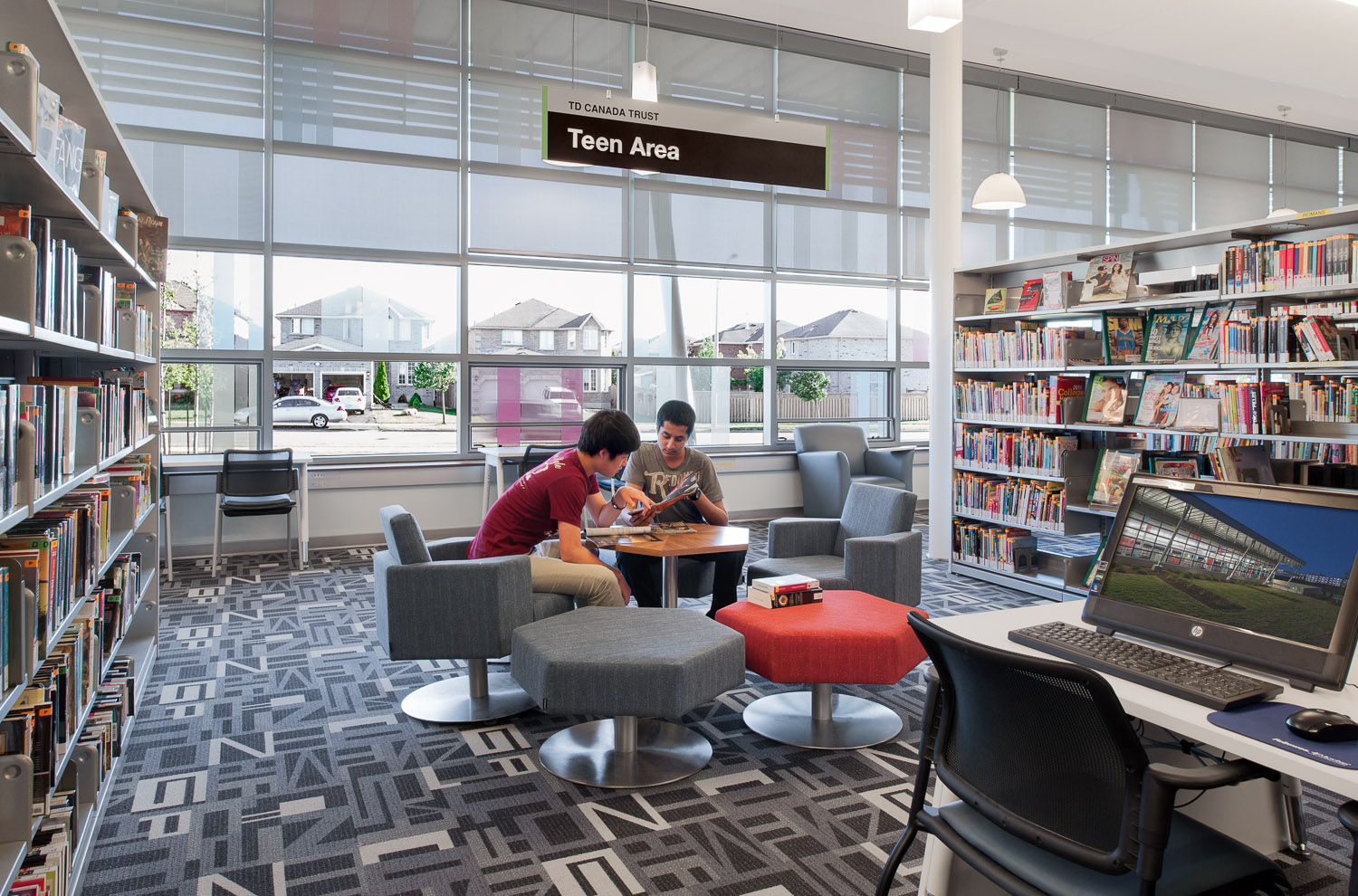 Painswick Branch Library
Barrie, ON, Canada
This project represents Barrie's initiation of a multi-branch library system. The 15,000 s.f. branch is situated on an unremarkable suburban greenfield site that buffers the transition between a commercial zone and a residential neighbourhood. The nature of the site encouraged a very strong language for the building's design.
The positioning of the building close to the road, with parking located behind, introduced a deliberately urban strategy and a strong streetscape presence to the area. Strong linearity in the fenestration and large dramatic gestures such as the main roof with sunshade and the curtainwall "lantern" will establish this building as a destination within the south end of Barrie.
A generous transparent public lobby provides an effective double-sided entrance (from street and parking lot). The Program Room and primary washrooms are located to one side of this lobby while the library-proper is on the opposite side, allowing the lobby to act as a natural control point for after-hours community use of the Program Room. Programmatically, the library is organized in a straightforward linear manner.
The stacks are arranged along the south reading wall, under a double-height space, allowing for easy reconfiguration of the collection as it evolves. Generous seating and browsing areas line the perimeter of the building, anchored by a Living Room that houses the periodicals, A/V and high-volume materials.
 
Client
City of Barrie
Size
15,000 s.f.
Program
Children's Program Room
Teens Area
Program Room
Group & Silent Study Rooms
Fiction & Non-Fiction Collection
Self-Serve Checkout
Public Lobby
Feature Display Wall